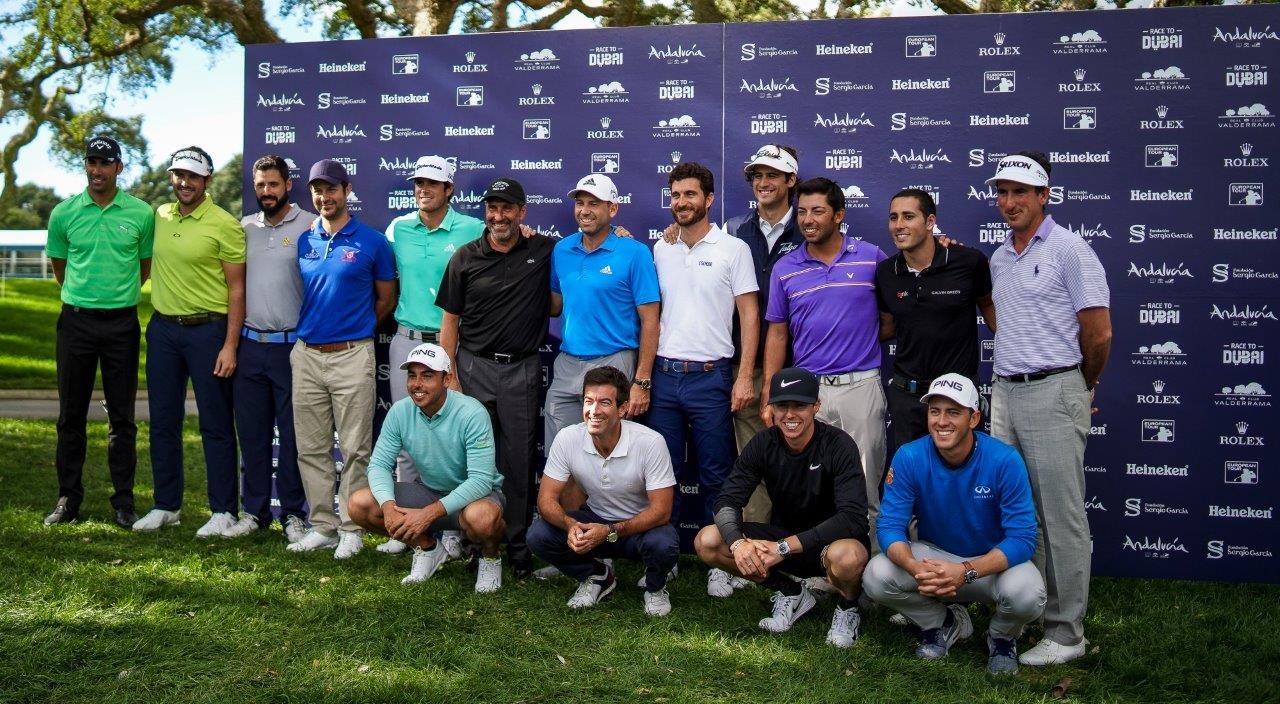 Valderrama Masters
Home players hone their skills ahead of Valderrama. Seventeen Spanish players will tee it up at the Andalucía Valderrama Masters.
Sergio García will lead the Spanish contingent next Thursday as the Andalucía Valderrama Masters gets underway with the support of the Council of Tourism and Sport of the Junta de Andalucía.
Tournament host García is set to defend the title he won last year, in the wake of becoming the all-time European Ryder Cup points leader in Paris last month.
Valderrama Masters players
He will be joined by double Masters winner José María Olazábal (1994 and 1999), as well as compatriots Pep Anglés, Jorge Campillo, Alejandro Cañizares, Nacho Elvira, Scott Fernández, Gonzalo Fernández-Castaño, Sebastián García, Ángel Hidalgo, Pablo Larrazábal, Pedro Oriol, Carlos Pigem, Álvaro Quirós, Eduardo de la Riva, Santiago Tarrio and Samuel del Val.
There is much at stake in this Andalucía Valderrama Masters hosted by the Sergio García Foundation, the last European Tour event of the season to be played in European soil, with a prize fund of two million euro. For Jorge Campillo it will be the opportunity to cap off a great season. After six top-5 and ten top-20 finishes, Campillo is seen as a strong challenger for the title. Nacho Elvira and Pablo Larrazábal will look to consolidate their position inside Europe's top 60 in order to secure their spot at the Race to Dubai's final event.
Fans support
Other participants, such as Alejandro Cañizares, Scott Fernández, Gonzalo Fernández-Castaño, Pedro Oriol or Álvaro Quirós, will need a great performance this week to keep their playing rights. In any case, it will be a crucial week for the home contingent as they enjoy the full support of thousands of Spanish fans.
One of the more excited participants ahead of the event is sure to be a young player from Málaga, Angel Hidalgo, who makes his professional debut invited by the organizers after a great amateur career: 2016 International Spanish Champion sub-18, 2017 Europe Team Champion, 2016 and 2018 Spanish Champion. Hidalgo turned professional this month.
Healthy golf – Walk & Win
Spectators attending the Andalucía Valderrama Masters on Saturday are invited to join the Walk & Win event, a ground-breaking European Tour initiative supported by QuirónSalud with the purpose of promoting healthy lifestyle habits amongst golf fans.
Every spectator will be offered a Walk & Win participation card at the entrance of Real Club Valderrama. In order to participate, they must follow the established route as they enjoy watching the action. They will have their card stamped when they pass by the 5th hole and again on the 13th, and will eventually hand it in at the QuirónSalud tent after having walked a total of over three and a half miles.