You neither have a ​WONDERFUL life, you  are ​NOT a fiction heroine, nor have blue blood, ​NOT A superwoman WITH​ supernatural powers.
In fact, the life does not look like to you a given way. Nevertheless, there you are, standing, entire and proud to have avoid the vicissitudes  the proper adventurousness of a woman who does not resign from its success, which is not another thing than its own sleep.
To please, to be loved, recognized, accepted has been the desire of many women along generations, but this sometimes turns into an anchor at the time of assuming new personal or professional challenges. And to say, that it is not scolded to take care of the proper life and to take care of those who matter ​TO​  us.
It is not necessary to choose ​FROM​  a thing or ​THE ​ other  … although often we do not find the formula to carry
​IT ​ out and end up by resigning little by little ourselves.
LIFE ​ PROGRAM​ of Coaching for women
The  LIFE ​ PROGRAM​ of Coaching for women promotes learning and development of a personal, internal, vital leadership, that one that makes us the only ​ ONES​ and real. A strategies proposal to know how to confront the multiple challenges of the current woman, who does not resign from its infinite capacity, to the development in the different rolls that it redeems like woman, professional, mother, couple … like person. All this, from: EMPOWERMENT.
To activate all your potential to achieve what you want. To know you the only. To take major conscience of you, of your capacities and Identity. To love what you have constructed and to impel what you are capable of constructing from now on. To accept who you are, your value and everything what you have to give and to receive. Avoiding the dissatisfaction product of the idealization. To know you infinite. To break barriers, beliefs and emotions limitantes. To obtain the state of plenitude, of personal well-being To plan your plan rather than writes the hazard Because, to
Lead (you) in Feminine, it is learned.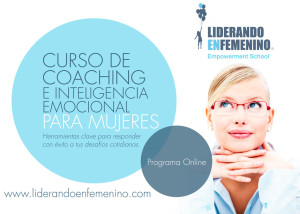 Silvia Adriasola
667586741
www.liderandoenfemenino.com