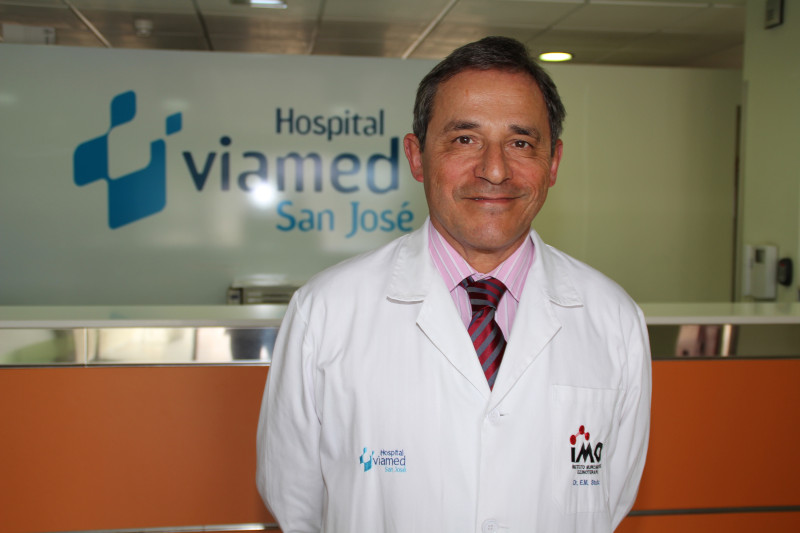 Interview with Dr. Ernesto Stutz: "Ozonetherapy is an alternative treatment with excellent results"
Viamed San Jose Hospital has an ozone unit managed by the Institute of Ozonetherapy and Regenerative Medicine in Murcia (IMO), with extensive experience in this type of alternative treatments. It is lead by Dr. Ernesto Martín Stutz Somma, specialist in traumatology and orthopedic surgery, and Ozonetherapy . 
In which diseases is Ozonetherapy  usually applied?
Medical Ozone is an analgesic, anti-inflammatory and oxygenating treatment used in patients with diseases and disturbances of the locomotor system, both in Traumatology and Rheumatology. Since more than ten years, our medical team has obtained excellent results in the treatment of hip arthritis, knee pain, shoulder injuries and disorders, spinal disease, and common sports injuries such as tendonitis and groin strain.
Is Ozonetherapy especially useful in patients with neck pain or low back pain?
Patients affected with chronic spinal pain of cervical, thoracic, and lumbar regions encounter serious difficulties to perform everyday tasks. Most of them have tried multiple drugs, physical therapy, acupuncture, use of lumbar corset, and they have even gone to Pain Treatment Unit without obtaining the solution to his disease.
Ozone therapy is an alternative treatment with excellent results and satisfactory testimonials, because it complements its anti-inflammatory and analgesic action with its oxygenating property, which is ideal for the treatment of neck diseases and low back pain.
And the lumbar herniated disc treatments?
Oxygen-ozone therapy is a minimally invasive treatment for lumbar disk herniation with the advantage of being as effective as traditional surgery. It does not require hospitalization and it is cheaper. The treatment will be done in an operating room in a hospital under local anesthesia and minimal sedation.
Ozonetherapy and diseases
Is Ozonetherapy effective against other diseases?
Ozone therapy is used as an adjunct in the treatment of cancer, even in National Health Service. Medical ozone also has an important effect immunomodulatory and it is used as a treatment in chronic bronchitis and allergy in children and adults. In addition, altered brain oxygenation diseases of brain oxygenation deficit as atherosclerosis, Alzheimer and Parkinson are also successfully treated with ozone therapy through autohaemotherapy. The ozone treatment is also effective in fibromyalgia, psoriasis and anti-aging.
Is it a very expensive treatment for the patient?
Infiltrations or rectal Insufflation with ozone therapy treatments used in osteoarthritis, low back pain, fibromyalgia and allergies, are priced similar to physical therapy sessions. The patient has to be consistent with the therapy, since the best results are obtained with 10-15 sessions. Ozone price for herniated disc is significantly lower than in conventional surgery.
Ozone Unit (IMO)