Today we bring you a very tasty and healthy cake. It's a recipe that brings together ideas from several single sponge biscuits friends. I hope you like it and enjoy it.
It's easy to do and will not take much of your time, but  children and adults will love it.
Ideal for tea, with a cappuccino, or simply with a glass of milk. You can not just eat one piece!
We start with the ingredients of the cake!
-3 eggs
– A Greek yogurt without sugar
– Brown sugar, 2 yogurt (use the cup of the yogurt for measurement)
– Flour, 3 yogurts (HARIMSA bizcochona integral)
– Olive oil, 1 yogurt
– Grated carrot, 215 grams (2 large carrots)
– Yeast, a Royal pack
-Nutmeg Or cinnamon, as you prefer.
-Nuts and prunes or apricots.
And now …
Peel the carrots and grate it, reserve, on a plate.
Preheat oven to 180 degrees, use the icon heat up and down.
Select a rectangular silicone mold , it is better for unmolding.
If you have a silicone molde it´s easier,or use the traditional with foil and a little butter on it.
In a large bowl mix the 3 eggs slightly and add the grated carrot, mix well. Then add the brown sugar and beat with a whisk in a blender or by hand, as you like, and see how the volume increases, which also will  turn into an orange color.
Add yogurt, olive oil, and re-mixed with the rods. And then, after sieving, we'll gradually flour and yeast mixture, whisking every time you add a bit .Use a large fine mesh strainer.
Mind you, if you use flour or other "bizcochona" HARIMSA check if they have the built yeast! Do not add the Royal!
Pour the finished dough in molde.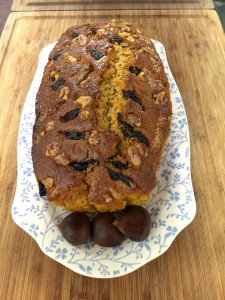 Now it is when I add the walnuts in small pieces, and plums or apricots, cut with kitchen scissors in smaller pieces.
So they will stay up, if you put when you're mixing the ingredients, they will stay down as you prefer
We bake about 35 minutes, depending on the strength of your oven. You have to hand a chopstick, or a metal rod, you get the alarm within 30 minutes of oven, and then (not before so you do not get off) you put the stick on the side, if you take it out it comes out clean).
If the cake is still uncooked, leave five minutes more and I repeat operación.Déjalo cool before turning out well!
And enjoys eye, engaging!