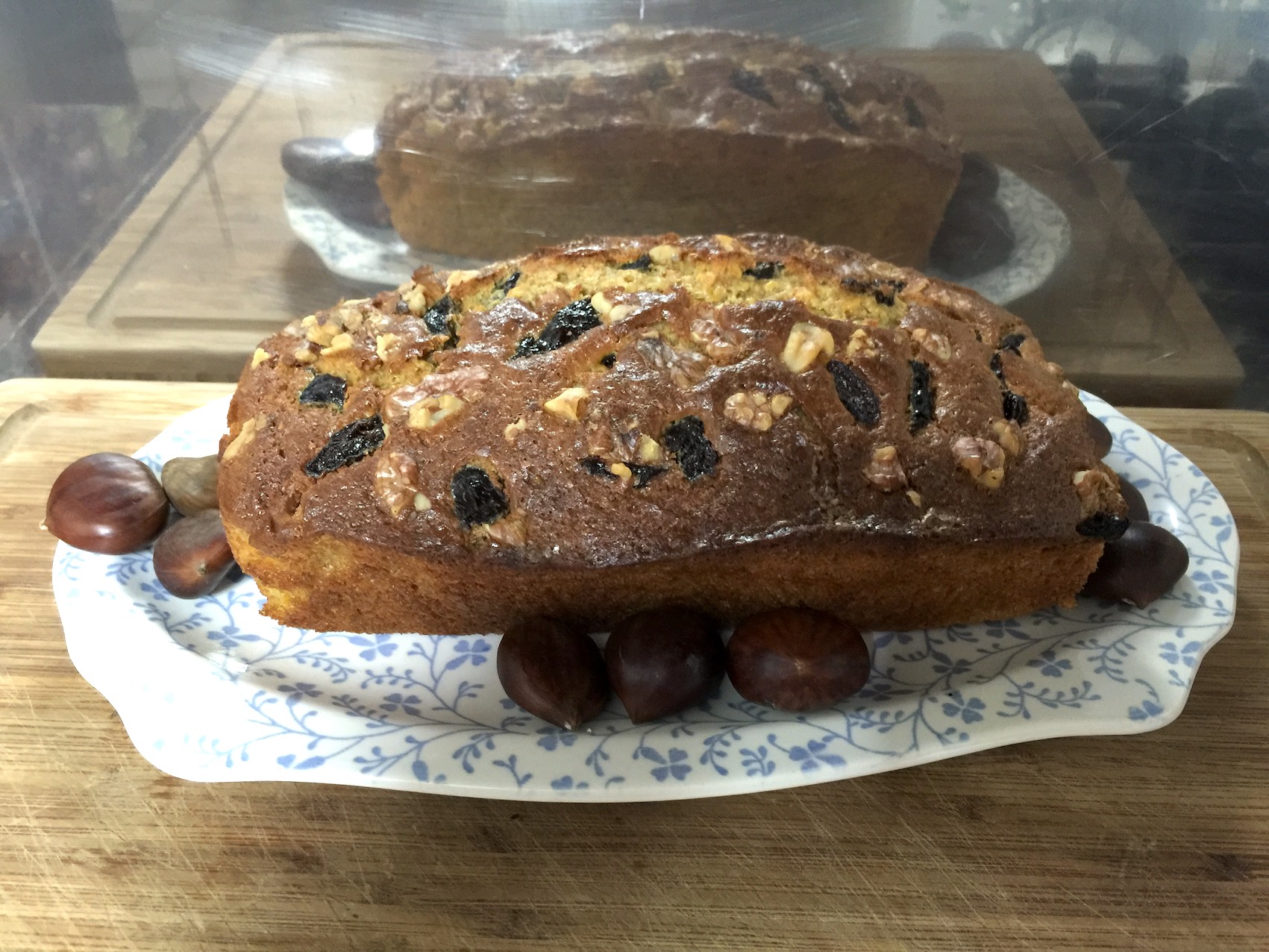 Carrot cake with yogurt, nutmeg and nuts
Today we bring you a simple but very taste sponge. A recipe that compiles different ideas from a couple of my friends' cake recipes.
I hope you like it and that you enjoy it! It is very easy to make and you won't take long, but everyone will love it! It's great to have with tea, a capuchino o simply with a glass of milk. You won't be able to stop eating!
Cake time, let's begin with the ingredients!
3 eggs

one Greek yogurt (no added sugar)

brown sugar (2 empty yogurt measurements)

whole wheat flour (3 empty yogurt measurements)

olive oil (1 empty yogurt measurements)

215g of grated carrot (2 big carrots)

Baking powder (one sachet)

ground nutmeg or cinnamon

walnuts and prunes or raisins
And now…
Peel the carrots and grate them, keep them aside on a plate. Preheat the oven  at 180 degrees and turn oven functionality knob so it heats from top and bottom. Use a rectangular baking tin, using a silicone one makes it easier to unmold the cake later on.
If you are using the traditional metal one just use tin foil or baking paper, and remember to use some butter on the paper so it is easier to remove the paper once baked. In a big bowl whisk the eggs and then add the grated carrots.
Then add the brown sugar and whisk it again. You can do it manually or use a blender, whichever one you prefer, as you mix it you will see that it gains volume and turns into a orange colour.
Add the yogurt and the olive oil and whisk again. Once this is all well mixed, the flour and baking powder which have to be previously mixed, can be added. You should do this little by little, ensuring that every time you add flour it is well mixed before adding some more. this is done to easily create a homogenous mixture. yo can use a strainer to do this. make sure that the flour you are using doesn't have baking powder already added to it, if this is the case don't use any extra.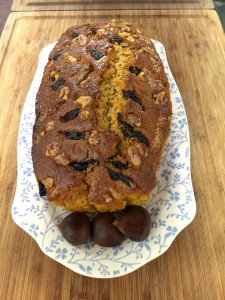 Add the mixture in the baking tin, this is when i add the walnuts, prunes and raisins. I break the walnuts into smaller bits and cut the prunes into smaller strips,  it is up to you if you want to add the three things or only one. If you add them once the mix is in the baking tin they will stay on top and if you add them to the mix before  they will stay on the bottom of the sponge. there is no right answer, be creative!
leave to bake for 35 minutes, depending on the oven. you can check if its done after 30 minutes poking it with a chopstick or metal dipstick, if it comes out clear then it's done! Leave it for another 5 minutes and check again, remember to let it cool down before unmolding it.
Enjoy!