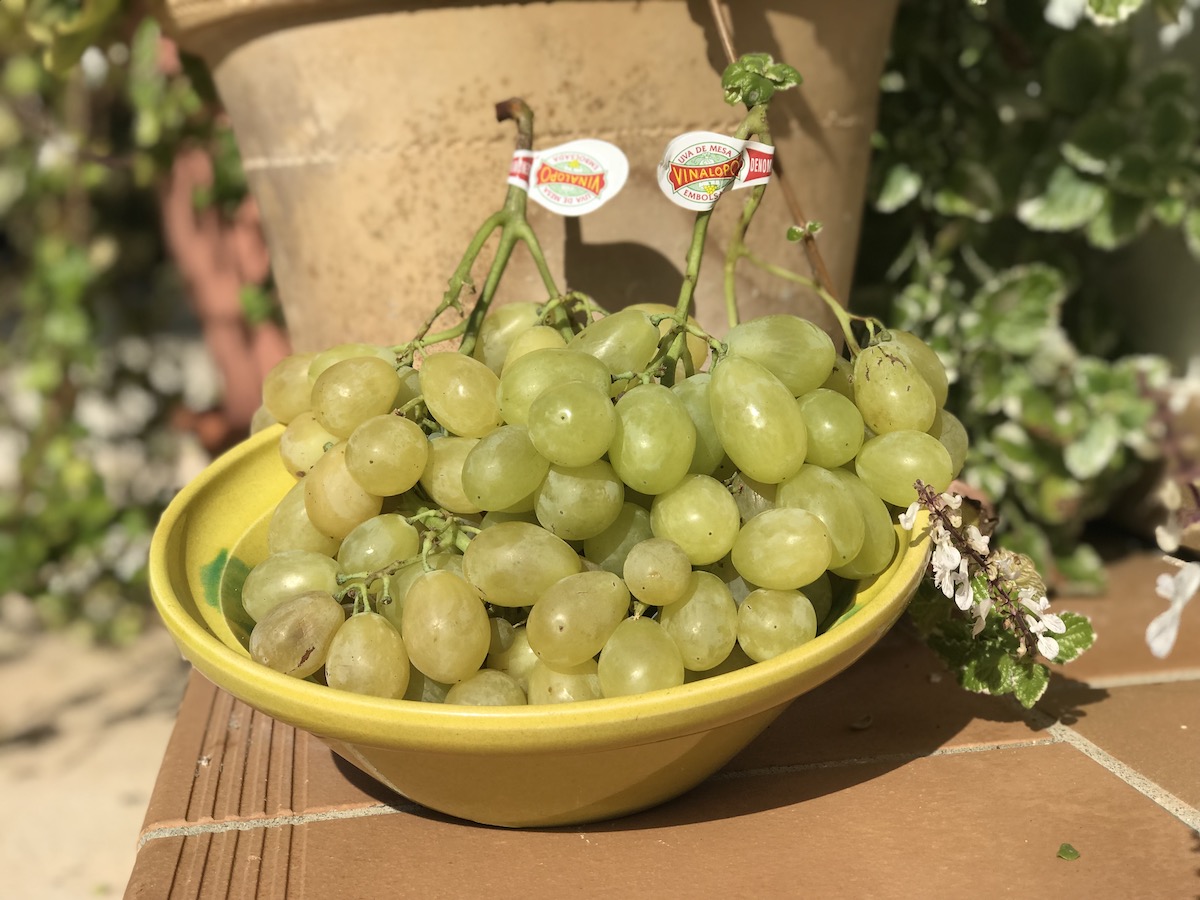 Bagged grapes with skin and pips
This is how we like to eat the bagged grape of the Vinalopó! With their skin and pips. We are in the grape high season and this weekend we have enjoyed a wonderful blogtryp in Monforte del Cid.
First of all we would like to thank José Bernabeu Cerdá, president of the Denomination of Origin of this grape and Paquita his wife for their affectionate welcome as well as Alfredo Guirao and Bea, for their attentions. To Ángeles Ruiz for her magnificent organization and professionalism!
We tasted the grape in different ways, we ate 'gachamiga', a masterful gachamiga cooked with grapes and stewed with Fondillón wine, by David Ariza. We walked through the countryside, among impressive grape clusters.
On a Saturday morning, with a radiant blue sky, a classic autumn morning in Alicante by the Mediterranean.  
We arrived at the convocation point, in Monforte del Cid near Orito, at a farm where the grapes are grown.
Angels Ruiz, the blogtryp organizer, welcomes us.
We are presented to all participants, professional colleagues, and the President of the DO who is already preparing the gachamiga!
All gastronomy professionals, colleagues and influencers involved in this wonderful world of our national gastronomy and products.
The beneficial properties linked to grapes are well known but according toa a study carried out by María José Roselló, at the Ramón Lull University, we can highlight that:
They provide 59.4 kilocalories per 100 grams

They have a high fibre content

Facilitates intestinal transit

Its daily consumption helps prevent cardiovascular diseases and cancer, due to its polyphenolic and resveratrol compounds

A cellular anti-aging effect and eye protection (cataracts)

Its consumption helps maintain a balanced diet
It is a unique fruit in the world, ripened in the sun, protected by a paper bag, a system that is unique in the world, perfect within the Mediterranean diet.
It reaches the consumer perfectly preserved and in natural conditions.
The paper bag protects it from inclement weather, preventing their skin from becoming too thick.
It is a certified product in these 7 varieties within the D.O.P.
Aledo

Ideal

Dominga

Ms. Maria

Rosetti

Victory

Red Globe (the only red-wine)
The grape is one of the foods with more resveratrol, rich in antioxidants, but not only in its meat, the skin and pips, have the highest concentration of this antioxidant.
Where the grapes are grown: Monforte del Cid, Agost, Aspe, Novelda, Hondón de las Nieves, Hondón de los Frailes and La Romana.
We were lucky and we also had the opportunity to taste a special menu in El Monastrell, designed by María José San Román, based on the Vinalopó Grape:
A cocktail with Vermouth and Red Globe grapes, followed by some starters such as 'salchichón' tartar, a 'pil pil' cod with Doña María grapes and a typical rice from Alicante. To finish with a dessert based on grape ice cream…
Do not hesitate; grapes are the ideal fruit, with their skin and seeds still on, so nutritious and healthy from our Terreta!
What are you waiting for?
You do not have to wait for the twelve good-luck grapes you can already get them in your closest market.
Very rich in nutrients and full of possibilities, with their skin and seeds still on, they explode in your mouth while eating them and it is delicious!
Happy good-luck grapes!
Ana Espadas
Más Que Salud