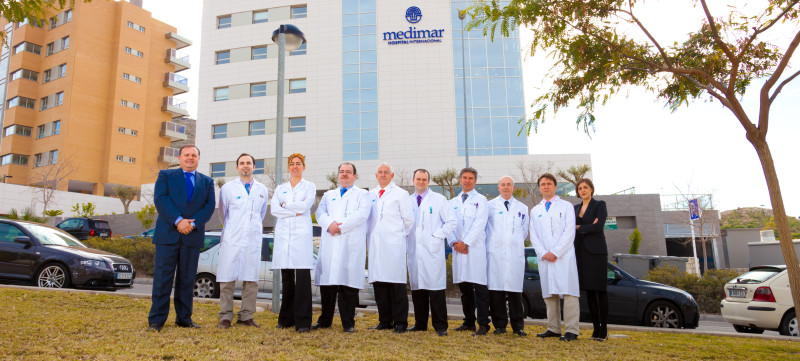 The latest technology and maximum ethics and professionalism at the service of your eyes: Oftalmar
OFTALMAR has an ethical and prestigious team that takes complete care of your eyes, along with the latest technology and the most advanced therapeutic procedures, offering an ophthalmic and personalised service based on quality and the needs of each patient.
OFTALMAR uses the technology of Sirius Scheimpflug rotating camera, which enables the analysis and reconstruction of the corneal structure, allowing curvature analysis, its thickness and volume and, therefore, a customised and realistic study of the cornea. Such analysis allows practitioners from the Cornea Unit and Anterior Segment (Dr Alberto Artola, Dr Javier Blanes and Dr Antonio Alzamora) conducting detailed studies of corneal diseases such as keratoconus, and programming and monitoring laser refractive surgery for the removal of near-sightedness, farsightedness and astigmatism.
For some time now, OFTALMAR proposes in its facilities the latest laser technology to correct such defects: the solid-state laser technology. This technology allows for correction of these highly predictable vision defects, with an immediate visual recovery and with the utmost respect for the ocular structures. The safety and effectiveness of this technology are supported by several scientific papers, two of them published by our team in very prestigious scientific journals.
Oftalmar: advanced medical therapies and technology
OFTALMAR is currently the only institution in Spain, and one of the few in Europe, which suggests this technology. Retina and Glaucoma Units (Dr Maria Luisa Ramón and Dr Clara Ruiz Belda) offer optical coherence tomography of spectral domain technology to securely and quickly analyse the configuration of the retina form, as well as the layer of nerve fibres that lead to the optic nerve. This technology allows the early detection of some diseases, a proper monitoring of patients with various diseases, scheduling surgical and pharmacological treatments, as well as the development of research of various kinds.
Thus, in combination with the use of the most advanced medical therapies, OFTALMAR gives a highly effective, personalised and accurate retina and glaucoma service. In fact, OFTALMAR also offers the latest laser treatment especially developed to treat glaucoma, and the trabeculoplasty (SLT) selective laser, of which many scientific papers have proved its effectiveness.
OFTALMAR also possesses the latest technology in video-oculography, allowing a personalised study of eye movements and deviations (strabismus). Consequently, there is a unique diagnostic work and therapeutic programming with a great benefit for the patient. The Paediatric Ophthalmology and Strabismus Unit (by Dr Carlos Laria) takes advantage of this technology and of the Rehabilitation and Visual Therapy Unit, which features the most advanced devices, including computer controlled systems.Cataract surgery with implantation of the newest intraocular lenses of proven efficacy and safety is another of the care advances that OFTALMAR has. A team of professionals will offer the patient the best chance of intraocular lens according to the characteristics of his/her eye, as well as the specific needs of each patient according to his/her daily life and habits.
OFTALMAR has multifocal lenses (they provide focus at different distances) of different types, toric lenses of a spherical and accommodative geometry, all of them implanted according to rational criteria and always thinking about the benefit and comfort of the patient. All these services and many more are the ones that OFTALMAR can offer you, a universe of professionalism that always thinks of and looks after your eyes.