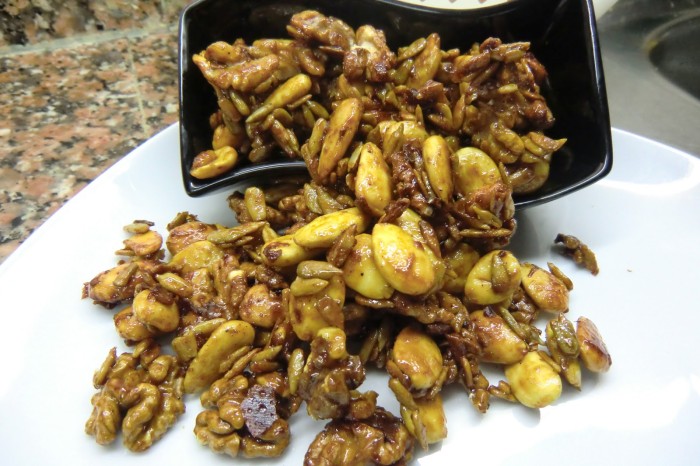 Dried fruits with honey and spices
If you like dried fruits and honey you'll love this recipe for Las Recetas Fáciles de María, in little time you have ready a delicious snack of dried fruits with honey and spices.
The recipe that I bring you today, even though it does not seem like it, you may be the most complete up to the moment. The best thing is that os serves both for an aperitif with friends as of restorative in a output to the field, you will provide a power pellet! … and that is not to say that any calorie also. For those who are going to the gym you can use it too, but as always i say with this type of recipes, should be eaten in moderation.
As you know the dry fruits are one of the most complete foods, rich in minerals and nutrients, are vitamin A, E and fatty acids like Omega 3, as well as: calcium, phosphorus, iron and zinc among others. By having a high content in fiber and antioxidants prevent cardiovascular diseases and wear with age.
On the other hand, the honey that we have put, to part of sweeten naturally our recipe, has anti-inflammatory properties and is a great antiseptic. If in addition we combine the honey with the spices we have chosen (curry, ginger and cinnamon), i assure you that this is a recipe that you are going to repeat more than once. The spices will bring an extraordinary flavor!
Ingredients to prepare the dried fruits with honey and spices:
-50 grams of raw almonds
-50 grams of walnuts peeled
-100 gr. of seeds peeled
-1/2 teaspoon of ginger
-1 teaspoon of cinnamon powder
-1 teaspoon of curry
-1/2 of ground black pepper
-1 large spoon of ketchup
-2 large spoons of honey (the one we wanted: rosemary, orange blossom … )
Note: If that's not a problem the salt you can add 1/4 teaspoon of the coffee. In regard to the pepper and ginger to the tastes of the consumer, will depend on how spicy you like it.
Preparation:
1. Mix the dried fruit in a bowl and add the spices: ginger, cinnamon, black pepper and curry.
2. Add the ketchup and the honey and dale a couple of laps with the bucket so that it is all well coated.
2. Put the oven at 170-180º and extends the earth that has been formed in the tray (better if the coverglasses with role of oven)
3. Leaves dried fruit around 20-25 minutes, during this time flip from 2 to 3 times for that caramelicen alike. Even if it seems that dried fruits are shaking off quiet, when honey melts cause this feeling. He hoped until the end and still mixing.
5. Out of the oven tray and let it cool down, enough to not burn out. You can then separate the dried fruit in equal batches and allow to completely cool.
AND already we have ready our dried fruits with honey and spices!Stand perfectly between 15 and 20 days in a closed bottle, but they were not of the heat!
I hope you enjoy this recipe and see you soon.