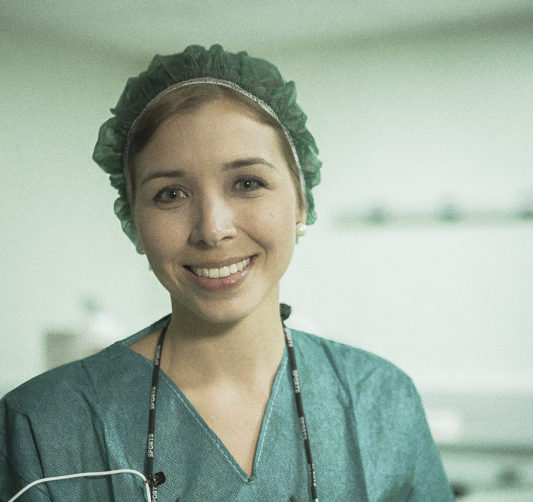 Do you Know what Oculoplastic Surgery is?
On June 8 and 9 took place in Bilbao the annual meeting of the Spanish Society on Plastic, Ocular and Orbital Surgery, where the best specialists discussed on new techniques.
Oculoplastic Surgery or Ophthalmic Plastic and Reconstructive Surgery is a ophthalmologic subspecialty, which demands special training after residency in Ophthalmology, due to the wide variety of surgical techniques in which it is necessary to become a master.
We interview doctor Alejandra Amesty, a coordinator of this specialty in Centro Oftalmológico Vissum in Alicante.
UNIVERSITY DEGREE:
• Degree in Medicine and Surgery, Universidad Complutense de Madrid.
• Doctor of Medicine and Surgery, Universidad Autónoma de Madrid.
PROFFESSIONAL CAREER:
• Adnexal Fellowship at Moorfields Eye Hospital and St. George`s Hospital. London
• Department Coordinator of Oculoplastics at Clínica Vissum. Alicante.
What diseases and defects treat plastic and reconstructive eye surgery?
The most common diseases are problems related to eyelids, lacrimal system and orbit.
Eyelids have the function of protecting the eyeball, and its proper function and position are crucial for good vision. There are different mechanisms by which the normal position of eyelids can be modified and can cause eye discomfort. In some cases, eyelids are reversed causing alterations of the tear film or rubbing of the eyelashes with the corneal surface respectively.
Another common problem is the drooping eyelid that can cause loss of sight. Some skin tumours are relatively frequent in the periocular and palpebral region.
Regarding alterations of the tear ducts, secondary tearing or obstruction of such ducts is quite common. Plastic eye surgeons are also in charge of getting a better drainage.
Orbital cavities are the ones intended to accommodate the eyeballs and their annexes. The bony structures that limit them are called orbits. There is a wide variety of orbital pathologies, and they can be classified as infectious, inflammatory, traumatic or tumour pathologies.
Finally, there are certain age-related changes in the anatomy of the eyelids as the excess of skin and fat, which sometimes require treatment as they generate a feeling of eyelid heaviness. In other cases, the surgical treatment of these problems takes place due to a cosmetic-rehabilitator reason and to get a rejuvenation of the eye.
What are the most common causes?
Among the most common reasons to use oculoplastic treatments are:
– Age: a frequent cause of eyelid problems due to the increase of laxity that occurs in older people.
– Skin diseases: rosacea and seborrhoea dermatitis can cause other problems such as blepharitis (chronic inflammation of the free edge of the eyelids).
– Sun exposure: there is an increase in suffering from eyelid tumours, so this is why it is quite important wearing sunglasses and use sunscreen, especially for those light skins.
– Eye Allergies can develop eyelid malposition by their continuous rubbing that can cause laxity and problems.
– Contact lenses: their use eases the development of droopy eyelids when used excessively or wrong.
Autoimmune diseases: they can produce changes in the orbital region such as thyroid disorders.
Patient fears before surgery: False myths
Oculoplastic surgery is an outpatient surgery that does not require hospitalisation. Usually, risks are temporary, such as the risk of hematoma and postoperative inflammation. However, other serious complications such as wound infection or scarring are rare.
Risks and benefits must be taken into account before any surgery. The oculoplastic ophthalmologist must inform the patient before performing any eyelid surgery of the lacrimal or orbital pathway, or reconstructive surgeries.
In your opinion, what are the advantages that an eye surgeon can offer to a patient instead of a plastic surgeon?
The training of an oculoplastic surgeon is very particular. The oculoplastic surgeon is a specialist on ophthalmology, and he has been trained in eye plastic surgery. As the ophthalmologist is the professional devoted to eye health, the surgeon is the one with the most comprehensive training to solve the problems of this area since before any surgery is necessary to rule out eye problems that contraindicate it.
Advances in medicine move fast, and there is a constant changing. Therefore, it is necessary to consult the appropriate specialist for each particular area.
At Vissum, there is a group of specialised professionals in which each ophthalmologist works in a specific area of the eye. This allows us, together with a large team, to provide a comprehensive and specialised solution to any pathology of our patients.