The association "Lola Busca Nueva Imagen" celebrates its three year anniversary
"LOLA AND THE CINEMA" is the title given to the event with which this entity wants to raise awareness about Rare Diseases.
The association Lola Busca Nueva Imagen, whose general purpose is the social integration of children and young people affected by cancer or rare diseases, celebrated on Saturday the 3rd, the International Day of Rare Diseases and the 3rd anniversary of the entity, with an awareness and dissemination event that took place in Plaza Seneca, the old location where Alicante bus station was located. More than 18 associations (many of them associated to rare diseases) and 45 companies collaborated in the event. The seventh art is the theme chosen for this year's event and they called it"LOLA AND THE CINEMA".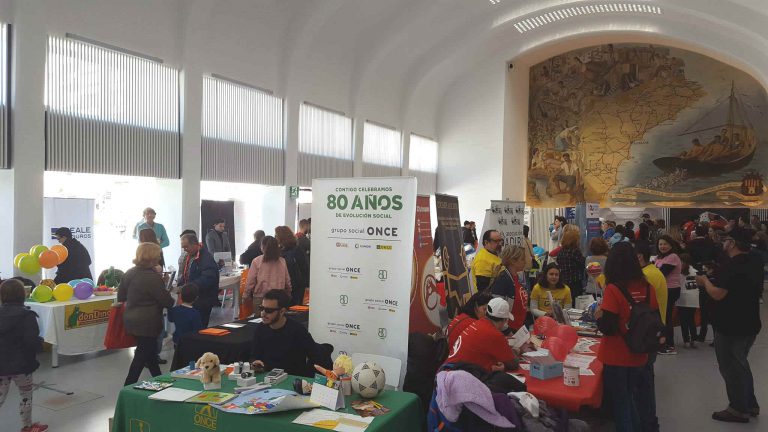 The activities began at 10:00 with a Batukada performed by San Rafael and CAMP Santa Faz schools directed by Pablo Ortiz de Carnavalia, followed by a practicaldance class of "In situ school" besides this fictional movie characters from for example Star Wars and Ghostbusters were also present.
Finishing the morning with a presentation given by the Head of Pediatrics of the General Hospital of Alicante, Javier González de Dios, titled "Cinema and pediatrics". Prices for the Junior Photography competition were given out by Fernando Mateo, president of the Photographic Club of Alicante and Crislan Pastor in representation of the Corte Ingles, main sponsor of the competition.
Alicante Film Festival
The President of Lola "Busca Nueva Imagen", Marisa Caturla and the Film producer and director Vicente Seva closed the morning ceremony with words of gratitude as well as giving a presentation of the next Alicante Film Festival.
In the afternoon some filmed animation shorts were projected, a children costume parade which was organized by the Sèneca Autobusos took place afterwards and a fashion runway organized by LA CUADRA, TRISTAN, CATURLA and ORQUIDEA HAUSE companies, with support from the SENECA Platform (Neighbors, Businesses and Foguera ), ended the event this Saturday at  around 7:30 p.m.
The assistance of the Town Hall Councilor SOFÍA MORALES and the Chief of the MOE, General DEMETRIO MUÑOZ, was a proof of support to this event as well as a continuous support to this associations.