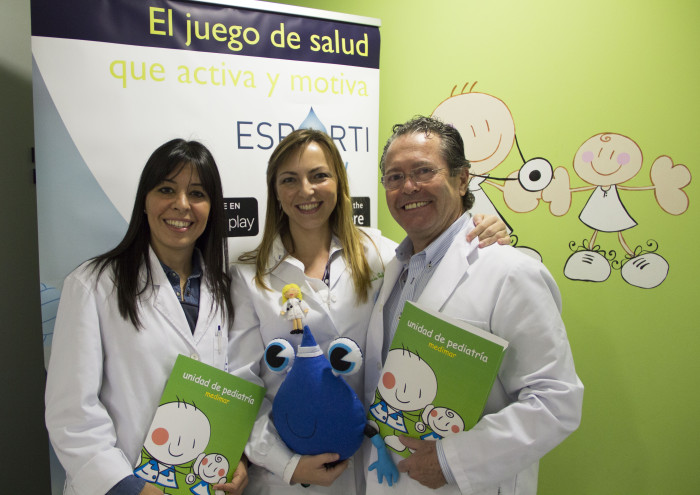 The pediatricians of Vithas Medimar International Hospital of Alicante are opting for "Esporti Revolution"
Esporti Revolution is a mobile application for children and adolescents with the objective of promoting health through physical activity enjoyable and educational.
The doctors Emma Albiñana and Lucia Galán, pediatricians of Vithas Medimar International Hospital of Alicante, have placed their bets on this innovative interactive project in your query, which will soon be incorporated into the doctor Antonio Redondo, with the main objective to motivate and raise awareness to the smaller of the importance of physical exercise. Currently 1 of every 3 children aged between 6 and 12 is overweight, which increases the risk of various diseases in adulthood.
Thanks to this virtual tool, pediatricians will have the opportunity to follow the child in a safe, controlled and at the same time different and fun. Through the professional area which includes the platform and the professionals assigned to children a username and password and you will prescribe a goal as part of therapeutic treatment, that move during a certain period of time.
This simple game of health education meets all the standards of confidentiality and security. Children should only be downloaded the application for free on your mobile, tablet and/or computer and record the physical activity that made the day, being supervised by their parents and their own pediatrician, which control the development of these through a control panel and you can even send them customized messages of support to increase their motivation.
Esporti Revolution more than sport
In addition, after each record of activity, the children have access to a trivial questions related to the sport, along with a series of videos and tips for improving your health. In this way, not only begin to do physical exercise on a regular basis, but that can be compared with other friends or users in your environment and sharing through social networks its evolution in the game, at the same time they learn easily and securely on aspects related to health and exercise. Esporti Revolution has become an ideal complement to the work done by the doctor during your consultation.
Dr. María Ángeles Medina, family doctor, and Manuel Escobar, computer health, co-founders of this innovative interactive tool created from the company Healthy Blue Bits, highlights the importance of motivating children and adolescents to help them overcome the traditional approach of sedentary life and the problems of excess weight thanks to the practice of sport.
Those pediatricians interested in using this innovative virtual tool in your query, they can contact the company Healthy Blue Bits in the e-mail: esporti@healthybluebits.com