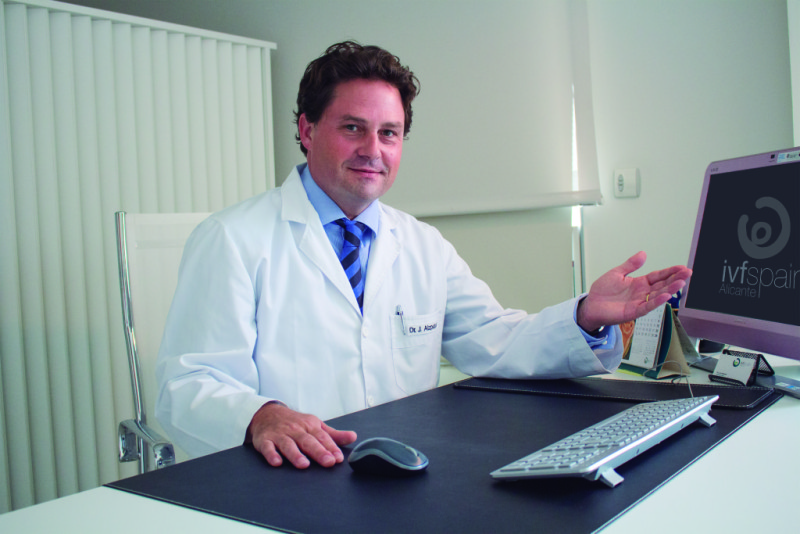 Interview with Dr. Jon Aizpurua: "If there were not anonymity, there would be no egg donation"
IVF Spain performs more than 800 fertility treatments per year thanks to the donation of egg cells. It is a reproductive technique widely requested by international patients who come to IVF Spain seeking a treatment which can be both illegal in their country or it does not preserve the anonymity of the donor.
The person who can better talk about ovodonation and what it really means and implies is Dr. Jon Aizpurua, General Manager and specialist in assisted reproduction at the IVF Spain Fertility Clinic.
1. What does the legalization of ovodonation really mean?
Egg donation is legal in Spain since 1988; it became one of the most advanced laws in the world, as it was virtually unregulated in other countries. Its legalisation made us become leaders in Europe. We must not forget that the origin of this legislation comes from the Spanish political situation after Franco's death, the so-called "Transition", and the first socialist government in 1982.
All the changes that took place during this period, and the subsequent legislation, allowed Spain to take a witness that led alone over the next 20 years in Europe; today, we can say that Spain is in deed a real industry of  reproduction.
2. What benefits do you observe in the anonymity of the donor?
If there were not anonymity, donors would not exist. There are some polls and publications that show the most important factor that donors take into account is that this is an altruistic act in a timely basis. That is, at a time of their life and under certain circumstances, they decide to donate their egg cells, and this should not imply that 18 years later they must open their home or change the ir way of life.
3. For what cases would you recommend egg donation?
Originally, it was the medical option for women who were born without ovaries or women who have lost their ovaries for any surgical, medical or accidental circumstances. Today, one could summarize it into 3 main profiles:
1. Patients over 42; in this case, I would say that it is an almost compulsory treatment.
2. For patients between 35 and 42 who have problems with IVF.
3. Patients who do not have egg cells or have accident ally lost them.
4. What does IVF Spain offer to their ovodonation patients?
We are proud to offer the best pregnancy rates in a legal framework such as the Spanish one. All this combined with a personalised and individual treatment. In short, we offer a range of services that make the patient feel calm and confident with our experience.
5. How does the selection of donors take place in IVF Spain?
There are some legal requirements acting as a first filter: age and health standards, with which we ensure good conditions for future generations. Subsequently, a comprehensive review of fertility is made which, on ce passed, gives rise to the beginning of treatment that is explained down to the last detail. It is vital that the donor is fully aware of the whole process when she accesses to donation; what is its purpose, how it takes place, what are its risks and what are the benefits she gets.
6. What does the IVF Spain's Egg Donation Program o ffer for having been awarded with excellence in the IVF CLINIC AWARD 2014?
This distinction is based on technological level results with which IVF Spain lab is equipped. We use innovative technology capable of a pplying markers on metabolomics, morphocinetic markers or standardised genetic markers in all our treatments. So if we make use of all this data, we can get success rates well above the average. However, I think that what is really award ed is the excellence in the satisfaction of patients who decide to take their treatments at IVF Spain.