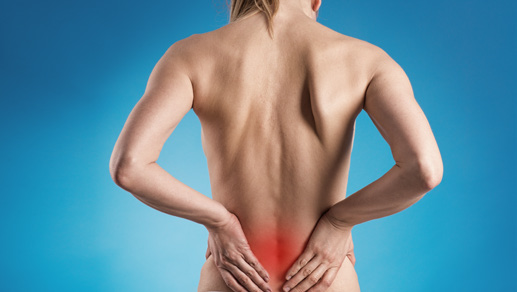 Hernia discal and laser Leonardo, treat your inconveniences! 
The hernia discal is a disease provoked by the loss of elasticity in the unvertebral disc. The discopatía also is the most common reason of backache. The disc, which we find between every couple of vertebrae, is composed on two parts and divides in the central zone and the ring that surrounds this core.
When the disc moves he exercises pressure and neurological injuries appear, concerning the surrounding nerves of the column. The hernia discal associates habitually to the degeneracy or vertebral aging, physical overstrain or blows that cause microtraumatism or traumatism. In addition there exist other factors that combined between yes multiply the possibilities of suffering this disease: bad positions, the age, an inappropriate supply, etc.
Treats the hernia discal with Evolve
To treat the decompression of the disc multiple treatments exist, one of them is the one that carries out across the denaturalization of the core by means of energy laser. It is an effective method and with good acceptance worldwide for the treatment of pathological special conditions.
EVOLVE is an innovative project that guarantees safety, efficiency and flexibility in all the surgical disciplines in which it are necessary mini invasive invasive solutions and precision mike to extend the therapeutic options.
EVOLVE possesses innovative characteristics as well as specific and effective terms of absorption of the wave length (980nm and 1470nm) also in terms of exclusive use of the Kit for procedures PLDD (Decompression of the Vertebral Disc with Laser), that contain the optical special fibers of 360 microns (21G or 18G) for the access invasive mike in the area of the disc. The platform laser LeonardoTM offers an innovative, sure and effective technology, in addition it allows to effect precision procedures near anatomical delicate structures. For the first time the surgeons will be able to realize a surgery laser of a selective way, with expositions and specific protocols of work to the type of fabric, aim and to the result that they try to obtain. The possibility of choosing the type of wave length opens a new world of therapeutic applications, improving the results of the treatment.
Effects of the decompression discal with laser for route percutaneous:
– denaturalization and contraction (shrinking) Denaturalization and contraction (shrinking) of the fabric discal:
– reduction of the conduction of the sensibility of the nerves proximales
– suppression of the transmission of the pain
– stabilization of the fibrous ring
Benefits of the laser: 
– excellent interaction of fabrics
– access percutáneo invasive mike
– painless and rapid procedure
– the procedure needs simply of a local anesthesia
– rapid return to the normal activities
– no rehabilitation is necessary
Postoperatory:  
– it does not need hospitalization
– repeatable treatment
Fields of application:
– hernia discal lumbar contained
– hernia discal cervical
-Denervación laser for the chronic pain of rather expensive, shoulder, hip, elbow Applications neuro surgical subsequent
Indications:
– hernias dial them lumbar contained
-hernias dial them cervical
Hospital Vithas Internacional MEDIMAR