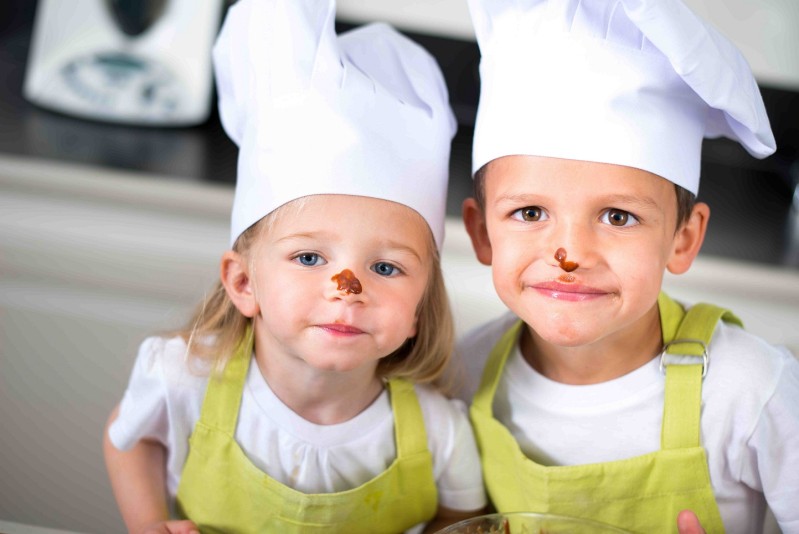 Gastroenteritis in children, detesting myths!
The gastroenteritis in children and babies is a very common illness. It is a question of an infection of the gastrointestinal system of short evolution (it usually does not last any more than 7 days).
It is evident fundamentally with diarrhea, sometimes vomiting and/or fever. The causers of these infections are for the most part the viruses (Rotavirus, adenovirus, astrovirus), he is followed of far by the bacteria (Campylobacter and salmonella) and in much less number the parasites.
In the following lines the Dra. Lucía Galán will exile false myths on the gastroenteritis in children. Suddenly and without previous notice our child begins being sick repeatedly. This is one of the most frequent motives for which many parents come to the first aid service. It is necessary to say that those that first they consult, as it is natural, are the inexperienced ones that, on having seen its son being sick without rest, come to the most nearby health center.
The most experienced parents, already know that initially we can start by offering to the child oral whey to sorbitos children and to wait to see what happens. Sometimes it works, but others, far from improving, deteriorate and to the second day the child not only keeps on vomiting if not that also has started with diarrhea. "It is a faucet, he confers a doctorate" – the moms say to us. For more inri now it is with fever. Do they jump the alarms: "And what do I give him to lower the fever if he is sick? And if you put a paracetamol suppository? – the father comments. "But if it is with diarrhea, the poor person: how am I going to put a suppository round there?" – the mother answers. Whole, that the child "goes away" at the top and for below and above there is no way of lowering the fever; also they had to deposit the son of our neighbor last year because it was dehydrated and spent it fatally "because they were not finding the vein". We approach to: And now what? Since it is very easy.
Once he stops being sick or going to the bath for the diarrhea, we will offer him water or better still Solutions of oral rehydration to sorbitos very small (they are bought in drugstores). If the stomach detects large numbers of liquid, this one will vomit it immediately. We have to try to re-hydrate to the child drop to drop, very little to little, without its organism findingout. How do we do it? Approximately 5 ml of oral water / whey every 15 minutes. Although the child asks us to drink more, that he will ask us for it because its center of the thirst receives signs of alarm before massive losses of liquid, we will not do it. Drop to drop. 5 ml every 15 minutes. If we achieve that in 4 ó he does not vomit 5 occasions again after taking these small water / whey gulps, we will be able to offer him something of solid (a bread bit, a yogurt, a little of ham of York…)
How to treat Gastroenteritis
Star asks: Can I give him Aquarius? The answer is NOT.
The recommendations of the gastroenteritis in children have changed important form in the last years and what earlier was recommended now is not recommended, or it would not be necessary to recommend; I confess that there is still some absent-minded companion who has remained for the way. Yes, it is a foul-up, I admit it but it is like that. The recommendations that here I exhibit are the accepted ones by all the scientific committees and they are those that we must continue. Neither Aquarius, nor Cocacola, nor no drink for sportsmen. "Since my grandmother was giving to me cocacola to sorbitos and I was fine!": "And why not Aquarius, if a doctor said to me that the Aquarius was going noisily?" So because the drinks for sportsmen are that: drinks for sportsmen, to what I would add: healthy adult sportsmen. And sick not children at the risk of dehydration. The salt and sugar that we lose the adults in the perspiration when we go in for sport not at all have to do with the salt and sugar that a child loses being sick or with diarrhea. Moreover, if we give him Aquarius (that takes very much sodium) to a child with a serious diarrhea can deteriorate drastically (with neurological complications) on having increased the sodium quantities in its organism of sudden form.
So now we have one thing clear, for rehidratarle: water or better still, oral serum (low sodium) if our son is an infant, eye, has more risk of dehydration; if you take chest, wear it often, tom cortitas but frequent. And don't expect to take him to the pediatrician, if on the second day you see it better, consultation with your doctor. If you take bottle you must continue to give you the same milk formula. Do not use milk lactose-free, is not indicated if it takes only a few days with diarrhea. If you enter can bring you more problems at the time of return to give it their normal milk. As well the milks without lactose that were so blithely ignored for years, now, with some exceptions and lingering diarrheas, should not be used.
Another myth that we are going to throw out: Do I have to keep it in fasting throughout the day by drinking only liquids? The answer is not. Early feeding, as soon as tolerated 4-5 sips of the serum there is to begin to offer the food: a piece of bread, a spoonful of yogurt, a bit of ham of york…what you fancy to the child. For then, horror!, the grandmother already will have prepared a mashed potatoes, carrots and rice water for the next 15 days. Because it does not. Always tell the parents that do not give them to eat their children what they did not eat. This demonstrated that children as soon as possible eat their usual diet and varied, before recovering the intestinal mucosa. Avoid this if, sweets, sugars and fats.
And the fever?
Paracetamol. Ibuprofen is gastroerosivo and in these circumstances should be avoided. Always prefer the oral medication before the rectal. Your children so they will be eternally grateful and I also.
Can I give you some syrup to chop the vomiting?
Once again, the answer is NO: in principle not, unless you advise your pediatrician. This type of syrups have many side effects in children and it should be used with care.
What about the famous probiotics?
Yes, this time. We can use them with tranquility, there are many in the market and different dosage. Your pediatrician will advise you.
Is it contagious?
If. The virus is spread by close contact with our children, but … How I'm going to ask that they not situation contact with your child now that is sick? Kisses, caresses … This also forms part of the treatment. That yes, try to keep you away from the grandparents, of pregnant women and other children, especially babies. Very important the washing of hands. Whether you are viral and bacterial (fecal-oral transmission) we must wash our hands frequently, especially after you rename them diapers or asearles. If not, the contagion is secured.
How and when should I go to the emergency room?
We are going, when you have to worry about truth: As we said earlier, the infants less than one year, especially children under the age of 6 months should consult with your pediatrician soon, should not expect, especially if you have a diarrhea very abundant. If our son for more than 10 depositions per day or if there is blood in the stool. If in spite of rehidratarle slowly, 5 ml every 15 minutes, we fail to do so and each 2 sips vomits inordinately again and again. If you do not urinate frequently. If it is a infant and it has been more than 5-6 hours without urinating, eye. Monitor the diapers. Children more older we content ourselves with at least 3 pipis per day. If you have signs of dehydration: sunken eyes, dry mouth, saliva or saliva pasty, absence of tears when crying, decay important, dizziness, paleness.
In short: Stay calm. Both if you vomit as if you have diarrhea, begins with oral serum softly, sipped their small. As soon as you are passing 4-5 sips without vomiting starts with solid, respecting their tastes and in small quantities. She flees the juices sweetened, shakes, drinks of sportsmen and fats. For fever: Acetaminophen ORAL. Presented to the emergency room in the above assumptions. Check with your pediatrician if in 2-3 days does not appear to improve or if improving, to the 7 day keeps the diarrhea. And of course always that you think your child has to be evaluated by a pediatrician to be he/she personally you with all of these recommendations.
Dr. Lucia Galán, pediatrician