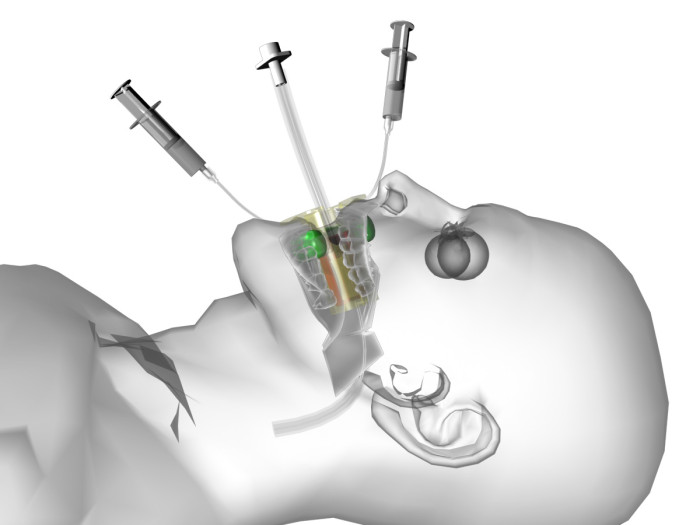 Clip-FAB: new intubation device 
The CLIP-FAB is a friendly device that fits the endotracheal tube (ETT) through two intraoral "balls" or "Pneumos", fixing it and preventing that: you move or move randomly throughout the time that the patient remains intubated.
Nowadays we have:
Endotracheal tubes which incorporate a pneumo at its distal ending and, once housed in the bifurcation of the trachea, is inflated with air or saline through the incorporated valve which is intended for it. But this pneumo does not guarantee the immobility of the tube during the position changes to which it is subjected  the patient during the same surgery (Trendelenburg, Antitrendelenburg, Prone position …)
Endotracheal tubes without "pneumo", i.e. they carry no locking built device
In both cases, bandages, surgical tape or tissue surrounding the TE are used and attach to the face and neck or the patient's teeth to ensure the immobility of the TE and ensure proper ventilation.
Clip-FAB OBJECTIVES
Setting the TE by intraoral "Pneumos or Balls" 
It allows to clear the area of the lips and face (required for specific interventions in which these areas are part of the operative field) and guarantee a perfect fit for TE
Adapting the TE to the surgical field
In every moment, we can move the TE voluntarily to the centre, left or right, depending on the need of the hour and times of intervention
Preventing that the TE suffers accidental displacements that prevent proper assisted ventilation 
The two intraoral balls that bear the device prevent the TE's displacement regardless of the taken position.
Preventing the breathing of gastric contents
Its intraoral larger balloon provides a laryngeal closing, which prevents any breathing of gastric content or blood that may occur during the intervention
Ensuring the integrity of the face and neck's skin 
Being a fastener adapted to the TE through the using of intraoral balls, it allows chafing to disappear or the lack of integrity of the face and neck's skin that can take place with the traditional methods, especially when dealing with long procedures in which the patient must be prone position for a long time.
This device may be incorporated into the TE or may be incorporated after intubation through a flange-clip.